We have been playing again…but at a new venue, Sutton High School for Girls.  However, currently, as of October 2021, we are completely full, with a waiting list, see below for details.

Please see most recent important change below – as from 21st October, we will play on a Thursday evening from 7pm till 9pm, at the same venue
Looking to play badminton in Sutton,  Carshalton or Wallington? Westwood Badminton Club is a friendly, informal  "Pay As You Play" club, for adult players of an Intermediate standard. We expect you to be able to serve correctly, and be reasonably able to maintain a fast rally. Ideally, you should have some experience of playing club badminton. Unfortunately we are not able to take beginners, as we need to keep to a certain standard in order to satisfy most of our players. We don't have facilities for children, and we can't offer any formal sort of coaching, though obviously we do try to be helpful to newcomers.

When do we play?
We play on Thursday evenings from 19:00 to 21:00.

Where do we play?
Sutton High School for Girls.  Click here for a link to Google maps . Just note that the entrance for the sports hall is in Grove Road, which is the rear of the school. More details here Where we play

Would you like to join us?
We're always on the look-out for new members to join us, so if you enjoy your badminton (without taking it too seriously!), then you're definitely invited to come along and see what we're like! Please contact us with your email address, and we'll be in touch to make arrangements for you to try us out.
Currently, as of October 2021, we are completely full. If you are interested in playing with us at some point, then please get in touch by email, and I can put your name on a waiting list. I can then get back to you in the future when a space becomes available. I'm sorry to have to turn people away, but at the moment, there is a very big demand for badminton.
If you want to contact us, our email address is :- westwoodbadminton@virginmedia.com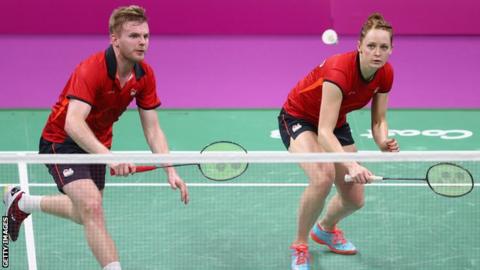 Olympic Fact
Did you know Badminton only became an Olympic sport in Barcelona in 1992.
Not Olympic standard, but if you are looking  for a badminton club in Sutton, Carshalton or Wallington give us a try.